Foreigners in Denmark is a private initiative founded by Paula Jota Pedersen and Kristian Pedersen from Wonders of the World I/S in 2007 to give foreigners a chance to share knowledge about Denmark. When they got too busy, they handed the site over in 2010 to Dagmar Fink, from Worktrotter DK ApS.
Paula is Brazilian and has been living in Denmark with her Danish husband Søren since 2004. Prior to that, she lived in Minnesota, USA for 8 years.
Kristian is Danish, from Farsø Jutland and also lived in Minnesota for 1.5 years.
Dagmar is German and has been living in Denmark since 2006. Prior to that she lived in USA, Sweden and Romania.
The webmaster, Alex Minakov from Centralum.com, is Russian but lives in Minnesota.
So, this is a truly international initiative reaching out to people from all over the world that have a connection to Denmark.
The reason why they are active in this space is because they have been foreigners at one point in their lives, and understand the struggles of being a foreigner and the need to communicate with others going through similar situations. That's why they decided to create and run a website that contains valuable resources to new comers in Denmark, including a discussion forum where people can meet others and share their experiences.
You can get in touch with us via: contact (at) worktrotter.dk.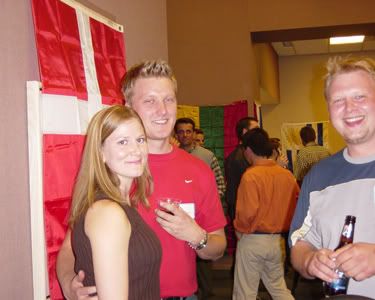 Paula, Søren and Kristian in Minnesota, 2004.